One of the major annual events in our lovely town is the Broadstairs Food Festival, which takes place each autumn in Victoria Gardens overlooking Viking Bay.  This year the Festival is on from 30th September to 2nd October.
The Festival site is a lovely spot, with fresh sea breezes wafting aromatic scents of tasty Kentish produce across the site, as visitors browse their way round the many stalls and demonstration tents. A glance away from any of the stall displays reveals stunning views of the bay and you can be on the beach itself in 2 minutes, or in one of the many local restaurants and cafes that line the shore, whenever you are ready for a change of pace.
Bunting fluttering in the breeze, tunes floating across from the adjacent bandstand, foodie treats from over 100 stalls with the Festival bar and restaurant tent buzzing with activity and plenty of treats, you're sure to have a good time at the Food Festival.
It is food and drink heaven for the full three days – and what's more it's free to enter!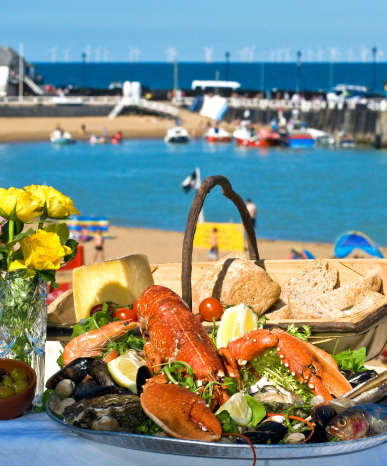 Ticketed Festival events around town include a Champagne Cocktail Party at the newly opened and very smart Yarrow Hotel and Taste Workshops, a Spanish wine and tapas evening at knockout local tapas bar, Albarino, a seafood supper at the trendy Belgian styled Fish and Beer restaurant/bar and masterclasses in cheese pairing and gin tasting (these are separate events, naturally!).

Free events include wine tasting at our well loved local independent wine merchants The Bottleneck on the Sunday evening.

See the Festival website's 'around town' listings

Demonstrations by well known chefs will include:

The Guardian's Catherine Phipps, who has written "The Pressure Cooker Cookbook" packed full of one pot pressure cooker recipes and the rather splendid "Chicken" which has over 200 recipes for the bird, beyond the classic roast. Anyone who has to feed a family every day and wants to keep things interesting will find Catherine a font of knowledge for keeping your culinary life fresh and fun.

Also baking queen, Lucy Cufflin, who makes imaginative and delicious cooking and baking easy for even the least confident of cooks to produce. Lucy has written Lucy's Foods and Lucy's Bakes and runs a popular deli, also called Lucy's Food in her home town of Leicester.

Take a peek at the exhibitors list and start planning your menus now – if you're here for the full three days you'll be glad you have booked to stay with Beeches Holiday Lets in Broadstairs. You'll be close to the action and have the luxury of a fully equipped kitchen and dining area so you can really make the most of all the wonderful Kentish produce you won't be able to resist picking up. Foodie inspiration is guaranteed here at this unique event!

Eat out while you're here of course, but eat at home too, relax and enjoy all your home from home comforts in your Broadstairs holiday let.

The Festival organisers make it clear that featuring quality local produce is their priority. Biddenden and Harbourne vineyards, Cheesemakers of Canterbury and Winterdale Cheese, a host of local brewers, including the teeny ones like the Four Candles brew pub, artisanal and fancy backed goods, game, nuts, herbs, scandalously good chocolate (that closeness to Belgium plays well for East Kent chocolate you know), chutneys, pickles and preserves and more. However you'll also find surprises like Thai and Indian food by local kitchens, fresh loose tea and locally roasted coffee.

Get in touch soon if you want to be here for the Festival – we'd love to provide your accommodation to make your stay Broadstairs the best it can be!

Tags: AlbarinoBroadstairs Food FestivalCatherine PhippsCheeseKentish ProduceKentish Wines