Writing for BBC Music last month, Emily Mackay named Margate Winter Gardens as one of the top ten most beautiful gig venues in the country. We love it when a local attraction gets some national recognition and so we were thrilled to see the article which you can read in full: here.
You can also read all about the unique history of this amazing venue here.
The Winter Gardens deserves the attention and we hope you will have the chance to check it out while you're visiting East Kent. You might even plan a holiday around one of their events. Find out what's on here.
What could be more exciting than to see one of your favourite acts in this stunning auditorium and afterwards step straight out on to the seafront for an evening stroll back towards the harbour arm in Margate. There are daytime shows too, including some brilliant stuff for kids. The venue's programming is wonderfully diverse and includes the likes of boxing, wrestling, music acts, theatre shows and big name comedians – there really is something on for everyone to enjoy.
What's on at the Winter Gardens:
Coming up in the months ahead, confirmed at the time we wrote this blog:
12 OCT, 2017 its SHANE FILAN with his LOVE ALWAYS TOUR
14 OCT, 2017 see children's favourites MISTER MAKER AND THE SHAPES LIVE!
15 OCT, 2017 catch the ballet, SLEEPING BEAUTY, performed by the touring company, VIENNA FESTIVAL BALLET
21 OCT, 2017 there's a charity fight night with amateur boxing and some of the country's top cage fighters Killacam Fight Night 12: ASSASSINATION has been organised to raise money for a local lad with disabilities who needs a specialised wheelchair, read more about Archie and how to support his cause here.
22 OCT, 2017 there;s more fighting with LDN – A NIGHT OF BRITISH WRESTLING
26 OCT, 2017 it's time to get dressed up for panto style SIMPLE SIMON'S SPOOKY HALLOWEEN ADVENTURE featuring children's favourite Simple Simon, his cat Tommy, and the good Fairy Moonbeam who will battle Wicked Witch Wilhelma, her Horrible Henchman Grot and assorted Ghosts and Ghouls in a riotously entertaining seasonal show!
28 OCT, 2017 is the PURE ELITE – MUSCLE & FITNESS SHOW
4 NOV, 2017 every tartan loving Roller fan will be waving their scarves in the air for LES MCKEOWN'S BAY CITY ROLLERS who have recently reformed and will play a their hits plus some a selection of new tunes.
10 NOV, 2017 THE DREAMBOYS will be bearing all
11 NOV, 2017 is a chance to get your dancing shoes on at MR WONDERFUL DANCE  – a night of ballroom and latin with instruction suitable for both experienced and novice dancers.
18 NOV, 2017 is ONE NIGHT OF QUEEN – a flawless Queen cover act PERFORMED BY GARY MULLEN & THE WORKS
24 NOV, 2017 is superstar ELAINE PAIGE, the first lady of musical theatre herself, with her band led by musical director John G Smith in a 90 minute show.
25 NOV, 2017 is the DISCO INFERNO party night
29 NOV, 2017 – 3 DEC, 2017  it's panto time! The M.O.S. PANTO this year is SLEEPING BEAUTY – with a soundtrack of modern pop songs, musical theatre numbers and some classic tunes everyone will know and love – it's a show for the whole family to enjoy.
1 DEC, 2017 – 23 DEC, 2017 WINTER WONDERLAND 2017
6 DEC, 2017 THE DARKNESS UK TOUR 2017 arrives in Margate
8 DEC, 2017 it's none other than CHAS 'N' DAVE – as if you needed an excuse to get daaarn to Margate in December…see the cockney boys in their spiritual home from home rocking out all the old favourites
17 JAN, 2018 see comic storyteller JETHRO on THE BULL AND BONKERS TOUR
27 JAN, 2018 the Stylistics are in concert celebrating FIFTY YEARS OF THE STYLISTICS
2 FEB, 2018 JIM DAVIDSON – 'ON THE ROAD AGAIN' tour stops in Margate
9 FEB, 2018 THAT'LL BE THE DAY brings an unforgettable night of nostalgia, laughs and rock and roll
10 FEB, 2018 THE KING IS BACK – BEN PORTSMOUTH IS ELVIS
2 MAR, 2018 THE MAGIC OF MOTOWN
3 MAR, 2018 and again on 19 May comedian JASON MANFORD, well known from his appearances on '8 out of 10 Cats' (Channel 4), 'The Nightly Show' (ITV1), 'Sunday Night at the Palladium' (ITV1), 'Live at the Apollo' (BBC One), 'Have I Got News For You', (BBC One), QI (BBC Two) and 'The Royal Variety Performance' (ITV1), appears in his show, MUDDLE CLASS
7 MAR, 2018 popular it's contemporary musician JAKE BUGG with his SOLO ACOUSTIC TOUR
24 MAR, 2018 you can see singer songwriter PAUL CARRACK, formerly frontman of 'Ace', 'Squeeze' and, 'Mike & The Mechanics'
21 APR, 2018 comedian BILL BAILEY's new show entitled LARKS IN TRANSIT
11 MAY, 2018 singer HEATHER SMALL – THE VOICE OF popular 90's dance music stars M PEOPLE – will be a treat
14 JUN, 2018 Kevin and Karen Clifton from ITV's Strictly Come Dancing are on tour with their show KEVIN & KAREN DANCE
24 JUN, 2018 catch the hilarious comedian SARAH MILLICAN – CONTROL ENTHUSIAST
a special place
The Winter Gardens location seafront location and landscaping is stunning and the interior quite awe inspiring. Look up and see the ceiling detail and chandeliers in the main hall for example.
To experience this early 2Oth century concert hall by the sea, take your pick of the programmed events (see website for full listings as new events may have been confirmed since we wrote this article) and book yourself some comfortable holiday accommodation with us in nearby Broadstairs – so you can stay a while and make the most of the area as a whole.Our holiday lets are perfectly equipped and only a short cab ride from the Winter Gardens, as well as all the other amenities of the Isle of Thanet. We hope to see you soon!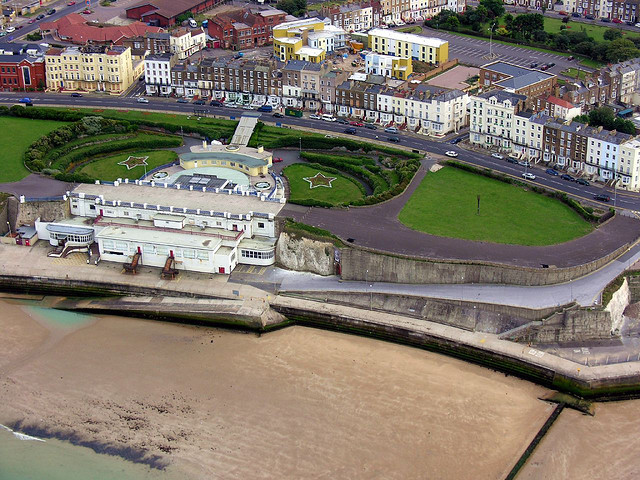 Tags: concert venueevent venuemargate winter gardensmusic venuevideo Bay City Rollerswhats on