Here in Thanet, we have sun, sea and seasonal produce in abundance. It's because we are lucky enough to be surrounded by some of the best farmland the Country has to offer. That's part of the reason Kent is called the 'Garden of England'.  You could call it foodie heaven! So a holiday in Thanet is a great opportunity to treat yourself and the family to some delicious regional produce.  Our local farms provide the fruit and veg and small fishing boats operate out of Ramsgate Harbour to bring home the catch. From wet fishmonger, Fruits de Mer, to artisan bakers, farm shops and farmers markets, it's local, it's fresh and it's delicious. Our Broadstairs holiday lets provide a perfect base from where you can head out, hunting and gathering all these yummy goodies.
Local foodie shops and where to buy.
Quex Barn, near Birchington,  https://www.quexbarn.com/. is a one stop shop with a great range of produce from local suppliers. Just to whet your appetite and in their own words, "Quex Barn is fortunate to be surrounded by some of the most productive and fertile land in the British Isles and we're delighted to be able to bring this local produce to you, as well as being able to support a number of local suppliers. The Barn boasts a butchery, a delicatessen, a wet fish stall, bakers, fruit, veg and floristry, coffee shop and a restaurant. This provides us with a fantastic range of local fruit, vegetables, livestock and, being within two miles of the sea, plenty of fresh fish." There's no doubt: the foodie goodies from Quex are absolutely delicious.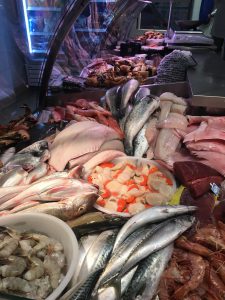 For the freshest of fish suppers, to cook in your well equipped holiday home kitchen, shop at Fruits de Mer, 10 The Broadway.  It is an outstanding wet fish shop with the most amazing selection. It is locally caught seafood from the boats in Ramsgate and they supply markets in France and Spain as well as Broadstairs. Treat yourself to oysters, crabs, mussels and the finest local fish. If you want to add fruit and veg to your supper, pop to traditional family greengrocers, J. Prentis, on Broadstairs High St. The quality is superb, as they buy in fresh most days.
Seasonal Produce.
You are in the Garden of England, so depending on the season, you can  pick or buy: Fresh strawberries and asparagus in June; Freshly dug potatoes and veg from July; Blackberries and summer fruits from August. There is also a wild harvest to gather. Try a foraging walk for samphire, blackberries, elderflowers and berrys, sloes, hips, crab apples, sweet chestnuts and plenty of other seasonal delicacies.
foraging walks
See Incredible Edible Foraging Walks with Berry Facebook page for details of guided foraging walks around Thanet.
Pick your Own
Visit Pick Your Own Farms, Kent web page  for a great range of pick your own options at local farms. You really can't get fresher than that.  Try Felderland Farm in nearby Deal who offer strawberries, gooseberries, raspberries, cherries and apples. Or head out to Hicks Forstal Farm Shop in Hoath which offers currants (red and black), gooseberries, raspberries (red) and strawberries, both to pick yourself and already picked.
explore
Give foodie exploring around the Isle a go. You will find locally grown: potatoes, apples, pears, plums, raspberries, strawberries, french and runner beans, carrots, lettuce, courgette, pumpkin, squash, celeriac, calabrese, cauliflower, cabbage, purple sprouting broccoli, parsley, asparagus, rhubarb, spinach and sweetcorn. You will also find free range eggs, pure fruit juice and preserves
There is a quality Farmers market in Cliftonville on the last Sunday every month, 10am to 1pm. Cliftonville Farmers Market website. Or visit Old Kent Market on the Margate Seafront, opposite the Turner Contemporary, for a wide range of artisan suppliers. From the vegan delights of Foody Moody's to the on-site bakers and delicatessens, there are plenty of yummy eats to try.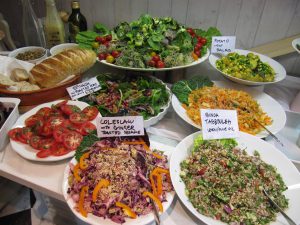 Eating Out
There are great local restaurants to sample all this delicious produce. Try Buoy and Oyster in Margate for fish – current holders of the best restaurant in Kent award from Taste of Kent.  Catch the view with delicacies at Royal Harbour Brasserie in Ramsgate. Or wander round to  Wyatt and Jones on Broadstairs Harbour Street, acclaimed Modern British restaurant specialing in seasonal produce.  How about eating fish and chips sitting on the seafront?  Now that is a proper holiday treat.

What ever way you choose to try the local food, we are sure you will enjoy happy eating, so bon appetit.

And to give yourself time to enjoy all the good eating opportunities that Kent offers you'll want to stay awhile – once you know what dates you'd like to come, check availability of our holiday accommodation in Broadstairs via the form on our home page.

Tags: bakerfishmongerfoodie kentforagingfruit and veggarden of englandlocal producelocal shops