The traditional English seaside town of Broadstairs is sometimes thought of as the most musical of the three Thanet towns on the Kent coast.  With the annual Folk Week Festival – which is always busy and accommodation tends to get booked up well in advance, the Blues Bash in February, music at the bandstand all summer, in several of the local bars and at the lovely Sarah Thorne Theatre all year round, as well as ocassional buskers on the seafront and on the High Street , it's understandable that the town has acquired this reputation.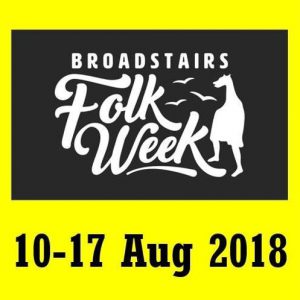 Ramsgate is famous for the Harbour and the architecture. Margate is famous for Dreamland and now also the Turner Contemporary and its burgeoning, wider modern art scene. Broadstairs is just beautiful of course and always known to be so, but many in the know have for some time flagged up that it also has a particularly vibrant music scene.
If you love music and you're coming to stay in one of our Broadstairs Holiday Lets any time soon we thought it would be helpful to share some insider info of where to go and who you might see while you're here.
The main gig venues around town include:
First stroll down Albion Street and down into Harbour Street and discover:
Reef – known for a great range of beers and very good food, Reef also put on lots of events including regular open mic and bands.
Sea Lounge – a new cocktail champagne and prosecco bar on the site of the old Balmoral Wine Bar – expect to find some sophisticated tunes and the doors open to the street overlooking Albion Gardens and out to sea.
The Chapel (originally a twelfth century shrine, then an actual chapel, then a bookshop, now half bookshop half bar with a dramatic mezzanine level overlooking the performance area and the bar, every wall piled high with books.
Traditional pubs clustered round the corner: The Dolphin, The George, Neptunes Hall – acts here can include anything from sea shanty singers or folk trios to smooth jazz.
Harpers – more of a wine bar with contemporary acts, open late
Tartar Frigate – a cosy traditional pub with regular open mics and local bands on Friday nights.
The Pavilion on the Sands – is a larger venue, right on the beach as the name suggests and sometimes gets big names playing, Georgie Fame has played here in recent years and as well as live music they sometimes have events with DJs such as their infamous 80s evenings.
On the other side of the High Street there are a plethora of other options you also won't want to miss:
The Bradstow Mill is just outside the station and is a lively venue, popular with all ages.
Charles Dickens overlooking Viking Bay from an elevated position will occasionally have a band on and have a great upstairs space for special events.
Prince Albert and Wrotham Arms are worth the stroll for vibrant evenings and a lively music programme featuring local and guest musicians.
The smart Yarrow Hotel up the hill on Ramsgate Road also ocassionally has musical events in the bar as well as special events in their function suite.
Some of the local performers you may encounter include:
Abigail Cardwell – charismatic singer songwriter and musician crossing genres from jazz, easy listening and pop with a beautiful voice.
Nigel Feist – uber talented blues harmonica player and singer – Nigel has toured the world with 'The LA Doors' and performs frequently around Broadstairs as it is his home town – and beyond.  Visiting musicians will often invite Nigel to play with him and he organises both the annual Blues Bash and a host of Bluesy evenings all year round.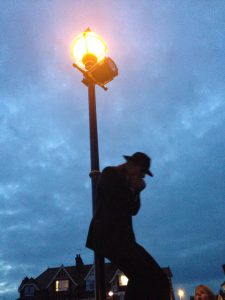 More names to look out for include:  Youthful four piece Minus Barbie based in Canterbury but often seen around Thanet. Their set list consists of covers ranging from Folk to Hard Rock and from the 50s through to the present day, they also put heavy emphasis on the writing and playing of original, self-penned material. and the unique Rudy Warman and the Heavy Weather, a classy, tight, rootsy rock three piece who play all original material featuring soaring falsetto vocals and perfectly crafted lyrics.

We must also say that the other two towns also have a whole lot of good music stuff going on. As Broadstairs, Margate and Ramsgate are all so close, if you're visiting one for more than a day or two you will almost certainly want to pop over and check out one, or both, of the other two. With the Ramsgate Music Hall voted best small venue in the country by readers of NME and Dreamland's multiple stages and enviable events calendar, you'll find there's plenty to discover all across the Isle.

For fairly comprehensive local gig listings check out:  https://www.brownbearsw.com/cal/wiredbroadstairs

But bear in mind that sometimes not everything is listed in one place.

Keep your eyes peeled for gig posters around town while you're here, pop in to the Info Kiosk in Viking Bay for fliers and to chat with the volunteers who will tend to know what's going on. You can always search for local Facebook events listings too. The What's On pages on the official Visit Thanet site are good as well – inevitably we find that there is no single definitive source of music listings but we hope we've given you enough information to demonstrate that there will be something of interest to you, whatever your taste, when you're here!

Use the availability checker form on our home page to check your preferred dates for availability of our comfortable Broadstairs holiday lets, suitable for groups of friends or families – and book your stay with us. Give yourself something to look forward to!

Tags: abigail cardwellBlues Bashbroadstairs band standfolk weekminus barbienigel feistPavillionramsgate music hallrudy warman and the heavy weather