Written by:

Lorraine

Written on:

May 22, 2018

Filed Under:

2018 Events, Activities, Broadstairs, Children, Company News, Days Out, Family, Local Area, Margate, Ramsgate
One of the great things about Thanet, apart from our miles of sandy beaches, is the wealth of events; every weekend from May to September there will be some sort of festival, gathering, shindig or hootenanny happening in one of the three towns – or all three – and don't forget the villages! All conveniently accessible from your Broadstairs holiday let. You'll be spoilt for choice whenever you come down, but here's just a selection of the great Thanet events happening this summer, 2018:
Dickens Festival, Broadstairs, 14 – 17 June
Charles Dickens was a regular visitor to Thanet and Broadstairs in particular; he immortalised the town as 'Our English Water Place'. Since 1937 Broadstairs residents have celebrated his legacy, dressing up in Victorian clothing and putting on dramatisations of Dickens' novels. This year the line-up includes a gin tasting, live music at the bandstand, coffee with the Dickensians at Morelli's ice cream parlour and performances of The Old Curiosity Shop.
Ramsgate Week and Festival, 22- 29 July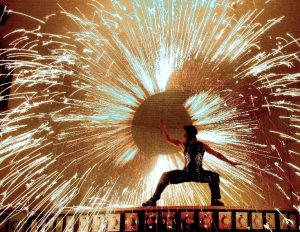 Ramsgate Week is the Royal Temple Yacht Club's annual regatta, attracting sailors from around the world to our local rival to Cowes. Tying up with this, shoreside, is the Ramsgate Festival, a week of family-friendly happenings and art. The programme for this year is still to be announced, but 2017's 'Dream Marine' included carnival parades, a rubbish monster, fire-eaters, a light installation on the beach and more. The perfect start to your summer holidays, with workshops and activities for all ages and tastes.
Margate Soul Festival, 3 – 5 August
Taking over the heart of Margate, or Shoreditch-on-Sea as it's called by some, the Soul festival offers three days of sweet soul music, DJs, indoor and outdoor stages, delicious street food and family friendly options. Eight night clubs stay open so you can party all night. Headline acts include international superstars Atlantic Starr, Deniece Williams and the Fatback Band, with special guests.
Broadstairs Folk Week, 10 -17 August
The legendary folk week sees Broadstairs transformed from idyllic seaside town to idyllic seaside town with Morris Dancers. Now in its 53rd year, Folk Week offers a smorgasbord of activities; you can burn off some energy learning to clog dance or tapping your toe to live bands, get chased by a hooden horse, or simply enjoy the atmosphere with a pint of local beer and a plate of locally caught seafood before heading back to your holiday home.
Margate Pride, 11 August
Founded in 2016, Pride has grown rapidly from approximately 200 attendees to 2,000 last year. This year the Parade will begin at Walpole Bay processing through Cliftonville, past Turner Contemporary and along the seafront to Sundowners, Thanet'sLGBTQ+ venue. The main stage will be in this area, with performers, music, dancing and speakers including Sue Sanders, one of the founders of LGBT History Month. This year the festival will also feature a dog float for out-and-proud pooches; Dreamland and other local venues will be getting in the mood and hosting their own Pride Parties. It's not just for those who are proud of being gay – it's about being proud of Thanet and celebrating everyone's right to self expression!
Wheels and Fins, Joss Bay, 7-9 September
For the more active among you, check out Joss Bay's Wheels & Fins Festival. Named after a local smuggler, Joss Bay is the closest beach break to London, hosting surf events all year round. Wheels & Fins is its flagship extreme sports and music event, with three days of surfing, skating, stand up paddle-boarding and BMX and live music. Among the acts headlining this year are Faithless (DJ set), Feeder and The Libertines; join the action in the water or simply sit back, soak up some rays and watch the action from the sandy shore. Gnarly, dude!
Broadstairs Food Festival, 28 – 30 September
Rounding off the summer beautifully, Broadstairs offers an event to wow your tastebuds and delight your senses. Kent is known as the Garden of England and the festival features some of our finest award-winning produce, including Kentish wines, ciders and juices, meats and cheeses, gelato, cakes, pastries and artisan breads, with the chance to meet the growers, butchers and bakers and sample their wares. In addition there are cookery demonstrations, workshops and family activities; and there may be a chance to celebrity spot – GBBO's Paul Hollywood has been seen chatting to local food writer Chetna Makan.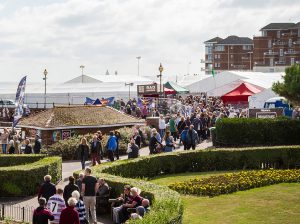 If you and your family love culture, the arts, or just a really good party, why not book one of our comfortable fully equipped holiday homes in Broadstairs and come and check out Thanet for yourselves. You can check availability for your preferred dates using the form on our home page.

We hope to see you soon!

Tags: DickensEventsfestivalsFoodPrideSoulwheels and fins