A very different tree
There's a Christmas Tree with a difference in our neighbouring town of Margate this year. If you're coming to the East Kent coast over the Festive season you'll want to go and see if for sure! It's unlike any other Christmas tree we've ever seen and it has got everyone talking. Kids and adults alike have told us they don't quite know what to make of it – but once they've got over the initial surprise they love it!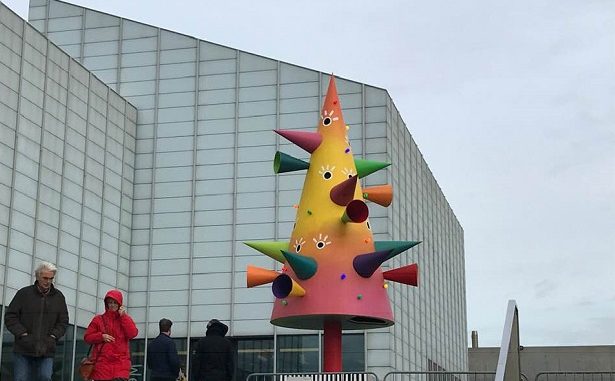 It's big – as a Christmas Tree should be. It's pointy and colourful and bright. It makes noise as well as taking up space – talking to you and tooting from what look like paper horns protruding from it's sides. It's a piece of modern art, first shown in Granary Square in London last year. If you aren't sure what to make of it, we'd like to share a great explanation that has been written by a couple of locals who read the description on the Turner website and decided to re-write it in plain English.
what it means – explained
Artist, Dan Thompson and writer, Jacey Lamerton, say they plan to do the same plain English style re-writes for all the Turner exhibition "blurbs" in the year ahead so you might want to follow them if you're interested in this kind of stuff. Their website is here. We are all for speaking plainly. As far as we're concerned, the Turner Tree is a great bit of fun and worth going to see as part of a day out or longer visit to Margate.
Here's how Jacey explains it:
"IS THIS WHAT YOU WANTED?

Tatham and O'Sullivan make sculptures and art pieces that rebel a bit against the 'art world'.

Someone asked them to design an alternative Christmas tree to be shown in a busy public place.

They came up with this sculpture, which they called DOES THE ITERATIVE FIT?, roughly meaning IS THIS WHAT YOU WANTED?

Lots of people have fixed ideas about art in public places: we expect things like statues and sculptures to look a certain way.

The idea behind this 'tree' is that it doesn't look like normal public art – and it doesn't sound like it either. It's meant to make us think about why we have those set ideas and whether art always has to look a certain way.

If you listen carefully, you'll realise the brightly coloured 'branches' are actually speakers – and you'll hear an actor talking about what it might be like to be a piece of art, out in the world, with people looking at it.
something for everyone
The Turner Contemporary on Margate seafront is a world class modern art gallery.  in addition to exhibitions they have a lot of different activities for everyone to enjoy, from high brow talks to playful workshops for all ages – children to pensioners! Check our their events programme for the dates you're visiting the area and see if there's something on you might like to get involved with. It's a very welcoming place and the exhibitions are free.
it's all going on across Thanet
This fun tree is just one of the things you can enjoy in our local area this month. For a wealth of Christmas Fairs, unique shopping opportunities, light displays, eating out, dining in, carol singing and even festive sea swimming for charity –  the Isle of Thanet, Margate, Broadstairs and Ramsgate, is the place to be this winter!
Book accommodation
Check our accommodation availability via the form on our home page.   Our holiday lets in Broadstairs are the perfect place to stay.

Tags: broadstairschristmas by the seaChristmas TreeHoliday letsmargateTurner Contemporary