When booking  to visit a new town you want to know that there will be plenty to entertain you. We know that Broadstairs won't disappoint and today's blog from Beeches Holiday Lets takes you on a trip down the high street and to some of our less well known side streets to explore just a few of our more interesting independent shops!
The beautiful beaches in Broadstairs are the main attraction here of course and many of our guests, at some point in their holiday, will be enticed to the big chain stores at Westwood Cross shopping centre which are excellent and well worth checking out – think Debenhams, M&S, Outfit, Mountain Warehouse, TK Maxx, Primark (Primarni!) and more.
But think beyond the obvious….our little town also has some fantastic independent shops which sell things you won't get in the chains and can be even more fun to visit.  Quirky, little, original boutiques stock everything from gifts for your loved ones back home to treats for your house, art for your walls or something you can wear for your special night out and for months and years to come to remind you of your special time staying in your Broadstairs holiday let, home from home.
Start up around the Broadway – Three Graces has gifts and mystical marvels from all around the world and is across the road from the famous wet fish shop, Fruit de Mer.should you also fancy some lovely fresh fish to cook back at your well equipped holiday let kitchen.  Flowers by SP sells the most beautiful bouquets and gifts.
A wander further into town takes you past several rather lovely beauty salons where you can book for a pampering treatment, or have your hair done – Evolve and Serene are two of the nicest.
We are famous for the quality of our charity shops – perhaps because the town has a relatively affluent and older population, the charity shops here get great donations, as households downsize and de-clutter. have a browse in any of them and you might find a cool vintage leather jacket, collectors china, or mint condition  hard back book by your favourite author, for a low low price. Buying from the charity shops also gives you that feel good glow that you are supporting a good cause and helping save the planet by stopping things from going to landfill.
The Noticeboard is a quirky one off just after the Co-op, facing the leafy Pierremont Park. this shop window is full of posters for local events and activities, check out what they're advertising when you visit, you'll be amazed how much is going on and often we spot details of events in the window at the Noticeboard that we might not otherwise have known were happening – Male Voice Choir Concert, Literary talks, Ukele workshops, carnival art lessons, DJ nights or mystery acts playing at Cramptons bar (Pete Doherty of the Libertines has been known to announce gigs here at short notice). the Noticeboard is also a gallery selling artwork by local artists, frequently including photography by the talented Mel Chennell. A recent exhibition here by Christopher Bashford including wonderful portraits of punk rock icons. Expect the unexpected!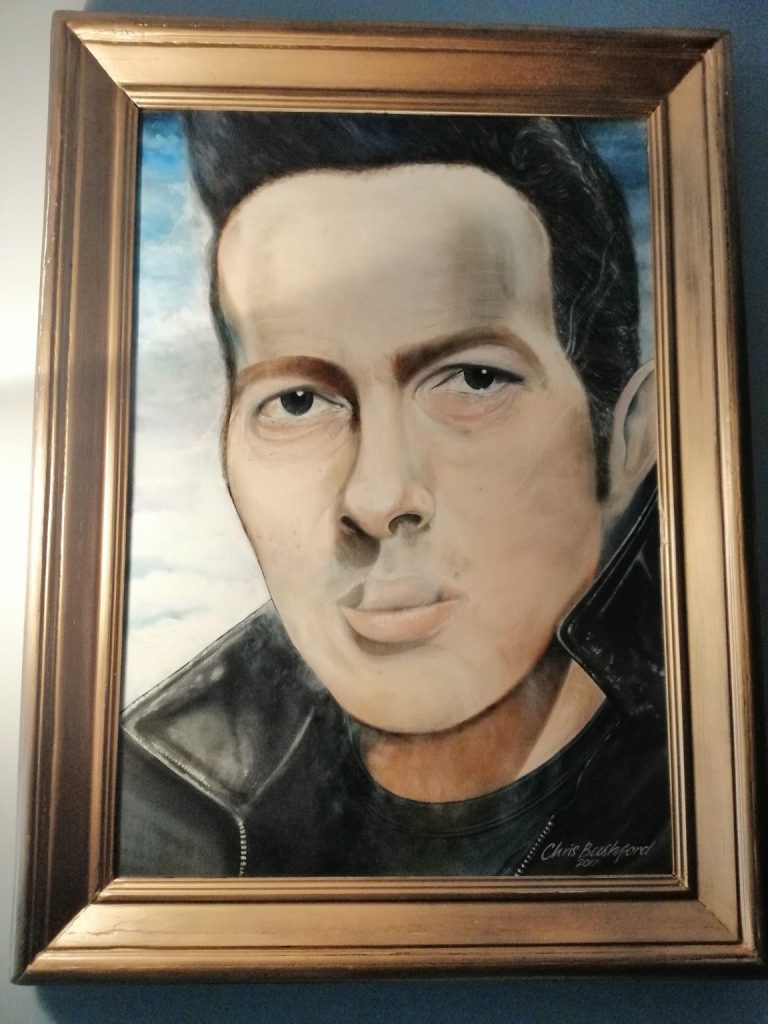 Next door is the vintage fashion specialist, The Vintage Wardrobe, with clothes and accessories from decades gone by – all in very good to immaculate condition. Kitten heels, diamante, big prints, platforms, hats and earrings, dresses and pant suits. It's a tiny little shop but packed with unique finds from the past that will put you ahead of the fashion pack and have everyone asking where you got your outfit.

Head down the hill towards the sea, turn right onto Charlotte Street with some of the best shopping in town. Don't miss the ultra modern and stylish Kit, which sells children's and grown up fashion and homewares (next door to Costa Coffee and the Thirty Nine Steps delicatessen).   Across the Road, side by side, you have: Arrowsmiths, in an old pharmacists shop bursting with character and original fittings, for cards, gifts, toys, clothing and accessories all hand picked and can be beautifully gift wrapped; then Home by SP, sister shop to the florists in the Broadway – unusual and stylish items from your home including beautiful plants. Carry on a little way and discover The Broadstairs Gallery which has wonderful prints and original art including plenty to remind you of your holiday. Across the road at the bottom of York Street is the legendary Harringtons, a lovely old hardware shop said to be the inspiration for the Four Candles Sketch!

Albion Street has The New Kent Art Gallery, Starfish Records, Antique and gift shops as well as all the cafes, bars and restaurants you'd expect to find in a thriving seaside town. Carry on from the bottom of Albion street as the road curves up and round away from the sea for more vintage, retro and upcycled discoveries if that's your bag.

On the seafront, check out Suzannes for the traditional seaside geegaws that the kids and aunties will love – snow globes, ships in bottles, mermaids, beach toys, shell boxes, tea towels and snorkels. It's a treat just going in there to see, or even  just peeking in the window.  Down towards the Tartar Frigate Pub, right on Viking Bay, Blue Anchor is smaller but also full of everything you might need for the beach or want to take back home as souvenir presents for everyone who missed out on your perfect seaside holiday.  The Old Lookout, right on the harbour arm, likewise is a great little seaside gift shop and specialises in unique and hand crafted items – we've seen pirate dolls in there made by a local lady that are just adorable and amazingly well priced.

Whether you are buying or simply browsing, we think you'll enjoy the experience of discovering our local independent shops. Let us know if you find anywhere we haven't mentioned that you think we should feature in a future blog. We love to get tips from our guests as we know what an adventurous and discerning lot you are. thanks to everyone who gave suggestions for today's article. We hope you have enjoyed reading. Come and see us soon.

Beeches Holiday Lets. Perfect self catering accomodation for families and groups in Broadstairs. Check availability via the form on our home page.

Tags: ArrowmithsartbeautyfashionHarringtonshomewaresphotographysalonshoppingStarfish Recordsvinyl