After our last post about our local area, the Isle of Thanet, being a foodie heaven, we thought a focus on eating in Broadstairs itself was in order…After all you have a very well equipped kitchen in your holiday let and you will want to use it – and if you're going out to eat during your holiday, you really want to know what's right on your doorstep!
Come with today's guest blogger, local foodie – Sally, on a culinary tour of the town….
Sally writes: Eat Broadstairs
You've finally arrived in Broadstairs and after the Friday evening commute you're certainly ready for a relaxing weekend! It's not too late, but you're starting to get hangry and can't face self-catering tonight. So what options are there in this quaint little seaside town? Is it all fish & chips or greasy spoons or will you be able to find somewhere half decent? Fortunately, you're spoiled for choice with fine dining to casual cafes in abundance.
Stark
Stark on Oscar Road is the restaurant that everyone is talking about right now, with chef, Ben Crittenden, lauded as one to watch by the Waitrose Good Food Guide earlier this year. The set menu may not be cheap, but the quality reflects this. It's a tiny restaurant though, so always book ahead; way ahead! (bookings must be made online 60 days in advance to get a table here).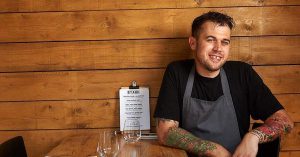 wyatt and Jones
Wyatt and Jones on Harbour Street offers Modern British dining with a seaview and a gin menu to satisfy even the biggest ginatic. Kat and Jan have an excellent team of chefs and I would highly recommend the chateaubriand if you're something of a carnivore. However, their vegetarian & vegan menu is wonderful and they cater for food allergies with ease.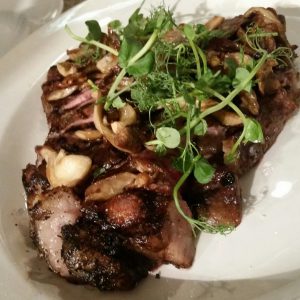 STar of the sea
If you're looking for something a little more "British seaside", The Star of the Sea fish and chip shop on the High Street is award winning and often has queues out the door in the summer as people pick up food to take along to many of the season's events on the beach or at the band stand.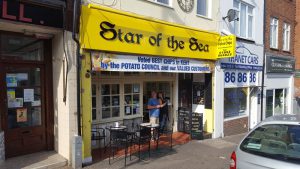 boswell's, Morellis and The Old BAkehouse…. treats!
Newcomer, Boswell's is getting some great reviews for its food and cocktails alike and is a couple of doors down from Broadstairs institution, Morelli's ice cream parlour (dessert first?!). This highly instagrammable cafe can also be found in Harrods, the ice creams are that good! But it's the decor you come for, a retro throwback to the early '60s with a super kitsch water fountain and a
photographic sundae menu that hasn't changed in decades! Try the Knickerbocker Glory if you've not had one before – it's a rite of passage in itself.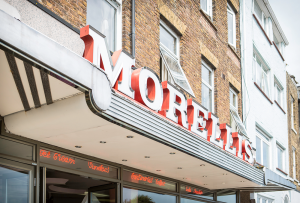 While we're on the subject of sweet treats, The Old Bakehouse bakery at the bottom of the High Street has a wonderful selection of home baked cakes and pastries as well as incredible sourdough loaves. They also have a small deli section with jams and marmalades and other delicacies. That's a lazy breakfast sorted!
special food shops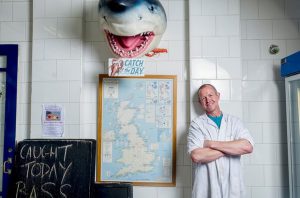 If you're cooking  or fancy a BBQ on the beach, head to The Broadway early to hit Fruits de Mer fishmongers who sell fish and seafood caught locally by the 19 boats that fish for them. Expect queues at the weekend! For some green stuff, Prentis is another institution selling a fantastic range of fruit, veg, herbs & spices from local suppliers. The Thirty Nine Steps Delicatessen, a few doors along from the eponymous Brewhouse, opened its doors for the first time last week and sells delicious sour dough bread, Kentish cheeses, continental meats and freshly cooked hot meals to take away at lunch time.
dine al fresco
Al fresco dining is best enjoyed on the terrace at Posillipo Italian, and the atmosphere on summer evenings can be electric, instantly transporting you to the Mediterranean, with people wandering past along the promenade.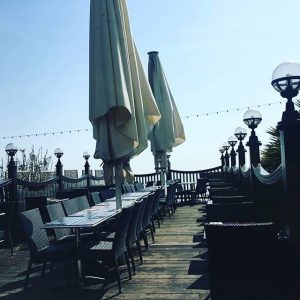 cafe culture and the best cups of coffee around
Finally, you're going to need a good caffeine hit at some point and good coffee shops seem to be breeding, with new venues popping up all the time. Smith's Coffee Bar on Dundonald Road has a sparkly beast of a coffee machine, along with staff who know how to work it which promises a great coffee every time. Opposite Balmoral Gardens, is C & Sea which has lovely views from its front window through the gardens to the prom and offers great local teas and coffees.  Newest kid on the block the Funicular Coffee House, based at the site of the base of the former funicular lift, behind the beach huts dotted along the sands of Viking Bay.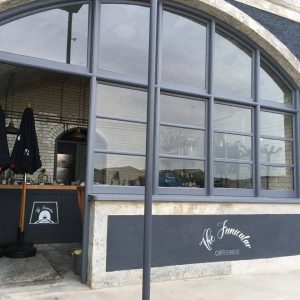 What are you waiting for?
This is just a small selection of the eateries you'll find in Broadstairs, and doesn't even touch on the many drinking establishments this tiny town boasts! So worry not, your hunger is very well catered for! We look forward to seeing you here soon. Check availability of our Broadstairs holiday lets for the dates you'd like to come via the form on our home page and get booking! It's all waiting here for you to enjoy.

Tags: best fish and chipsbroadstairscoffeefine diningrestaurants